Googie architectural rendering prints
Read more at Boing Boing
Read more at Boing Boing
Read more at Boing Boing
---
In this series of first-person online accounts, CNN correspondent Kevin Sites shares his experience reporting the news from Kuwait, where he is presently stationed: "We have two birds in our CNN workspace, Anthrax and Smallpox.
---
NASA publishes a weekly online newsletter of fun, space-related science news and experiments -- it's intended for students, but they're fun for (geeky) adults, too.
---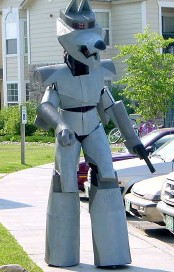 This fantastic powered mecha wolf costume -- complete with little, electronic pilot in the mouth -- took five months to complete, weighs 50-60 lbs, and stands 9'2" tall.