The Comics Journal Audio Archives: Jim Woodring
Read more at Boing Boing
Read more at Boing Boing
Read more at Boing Boing
---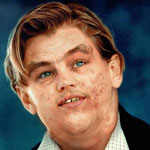 Funny pictures of celebrities getting the photoshop treatment to make them look older and a lot weirder. Link (via Awful Plastic Surgery)
---
The December issue of Ericsson's consumer magazine ON includes a couple of pieces from me, both about camera phones.
One -- on page 22 -- is a profile of Mizuko Ito, an anthropologist researching phonecams and culture in Japan and the US (and, incidentally, Joi Ito's sister); the other -- page 45 -- is a roundup of interesting phonecam blog sites (which, sadly, disappear as quickly and quietly as they appear).
Link (PDF)
---
From the same incredibly cool archive of old newspaper and magazine clippings that the 1906 Straightedge illos came from, this -- New York Tribune, February 8, 1920.