Ukioye Flash animations
Read more at Boing Boing
Read more at Boing Boing
Read more at Boing Boing
---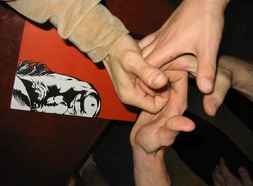 Last week in Vienna, I attended Monochrom's first-ever massively multiplayer thumbwrestling competition. Now the Monochromers have posted detailed descriptions for running your won MMTW events.
---
Jesus-themed variant of DDR (of *course* it's a hoax). Update: BoingBoing reader Ross Payton says, "It was actually created by a member of the somethingawful.com forums who goes by the name None More Negative.
---
Over at my other blog, Ukulelia (which gets way more visitors than Boing Boing does, btw), my co-editor (Gary Peare) and I have set up a fund to donate Flea ukuleles to the MassGeneral Hospital for Children's Healing Arts Program (Here's an article about the program from The Boston Globe.) We've collected $518.95 so far, and our goal is to come up with $1100 (enough for 12 Flea ukuleles). If you want to donate, Gary and I would be grateful. All funds received will go towards the purchase and postage costs of ukes for the hospitalized kids. Link (Look for PayPal donate button in middle column).