Celebrity monument photoshopping
Read more at Boing Boing
Read more at Boing Boing
Read more at Boing Boing
---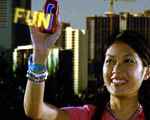 Joi Ito has a good blog entry about Nokia's new "Airtexting" feature in the 3220 handsets: a string of LEDs down the side of the phone spell out user-defined words when the phone is waved back and forth.
---
Nifty showerhead has built-in electricity generator. Water enters the shower head through the flow resrictor (1) then travels through the injector plate (2) which directs the water to the waterwheel (3).
---
When I went to Japan a couple of weeks ago, I kind of became obsessed with the uniforms everybody wears there.