Katamari Damacy made from paper
Read more at Boing Boing
Read more at Boing Boing
Read more at Boing Boing
---
This looks like it's going to be a really great event tomorrow -- confab on intellectual property law, commons culture, and fashion.
---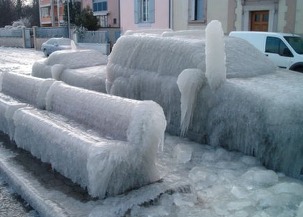 Geneva's been hit hard by a massive ice-storm that's left the city covered in thick ice. These photos of ice-crusted benches, boats, cars and so on are striking -- and chilling.
---
On today's edition of the NPR show Day to Day, I report on the tech behind James Cameron's new film, Aliens of the Deep.