Hunter S. Thompson (1937-2005)
Read more at Boing Boing
Read more at Boing Boing
Read more at Boing Boing
---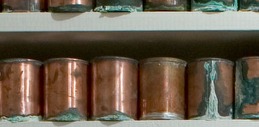 Cicolini sez, "Someone was cleaning out an old insane asylum and found the cremated remains of over 5000 people tucked away in a closet.
---
Ten-month-old Manar Maged is in stable condition after surgeons removed her parasitic twin yesterday at a hospital north of Cairo. From Reuters: Manar was born with a rare condition known as craniopagus parasiticus, which occurs when an embryo begins to split into identical twins but fails to complete the process.
---
Boing Boing reader Aliya says, "I make tiny stylish handbags out of chocolate." Shown here, a bite from ChocoChocoHouse's "Pravda" 12-piece collection -- which, at $17.95, is a steal when compared to its likely namesake.