Web Zen: Comics Zen
Read more at Boing Boing
Read more at Boing Boing
Read more at Boing Boing
---
Image, Michael Yon (U.S. Army): "A soldier comforts a child mortally wounded in a car bomb blast in Mosul, Iraq, one of 15 Iraqis injured on Monday in a combined suicide bomb attack."
In Salon today, a feature by Juan Cole.
---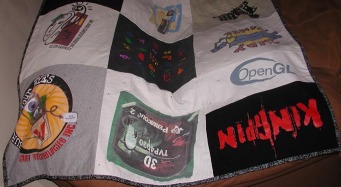 This nerd turned his extensive collection of tech company t-shirt over to his mother-in-law and she sewed the world's greatest geek-tee quilt.
---
Meg sez, "While checking up on the BBC's timeline for tonight's General Election announcements, I stumbled across their Election 2005 party pack, with bingo, sweepstakes and the scariest PDF file known to mankind.