Illicit Mickey Mouse Melon carving spotted
Read more at Boing Boing
Read more at Boing Boing
Read more at Boing Boing
---
Over at the MAKE: Blog, Phil Torrone says: "I've been having a lot of fun with the Portable Rotary Phone from Spark Fun Electronics.
---
A puppy with six legs and two penises was found on Thursday snoozing outside a Chinese temple in the Malaysian town of Pandamaran, south of Kuala Lumpur.
---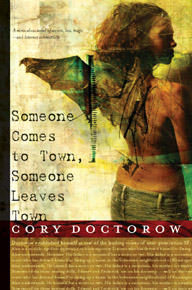 Last week, my third novel, Someone Comes to Town, Someone Leaves Town started turning up in bookstores. It's another fine Tor hardcover, with jaw-droppingly beautiful cover art by genius Dave McKean to boot.