Bootleg action figure gallery
Read more at Boing Boing
Read more at Boing Boing
Read more at Boing Boing
---
The UK's Synthi synthesizers ran an old ad campaign, collected here, showing all the different contexts in which their gigantic electric keyboards were de riguer: picnics, Christmas, and nunneries.
---
Link. (Thanks, Devon)
---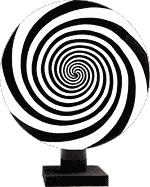 For less than one Andrew Jackson, you too can own any number of wack-ass scifi defense tools. Shown here, the dreaded Hypnodisk, guaranteed by its manufacturer to "Produce Weird and Bizarre Effects." Defense technology reporter Noah Shachtman says: I believed all those government and scientific reports that laser rifles and hand-held force fields were decades away from reality -- if they were possible at all.