Leet Scrabble tiles
Read more at Boing Boing
Read more at Boing Boing
Read more at Boing Boing
---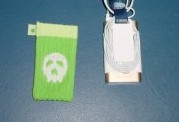 If you're the kind of person who keeps your iPod in an iPod sock, and if you're the kind of person who likes skulls, you're my kind of person.
---
Joel Johnson and Jacob Appelbaum continue to work on "geek aid" projects in the greater NOLA area. Along the way, they're encountering a lot of living people with guns, and a lot of dead people who haven't been buried.
---
Frequent Make contributor Dave Prochnow sent me an email about his family's experience with the hurricane, and I thought it was so interesting that we ran it on the Make website.