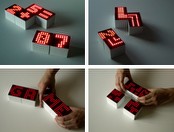 TileToy is a prototype for an open-source LED-based puzzle-block game (the
video
shows how it might be played), created by a Finnish designer. The look and play of these is really top-notch, and the idea that anyone will be able to hack and improve them seals the deal. I want a set!
Link
(
Thanks, Martin!
)
Update: Juerg points out that Sony's Blockjam is very similar to TileToy.
Update 2: Pete sez, "There is a exhibition going on at the Finnish embassy in DC currently that showcases these blocks along with other prototypes/new applications of Finnish design. The SAUMA exhibition showcases some pretty innovative creations, such as an urban sauna, flat lighting, mobile audio briefcase, and an interesting kitchen design."