Install Wikipedia on your iPod
Read more at Boing Boing
Read more at Boing Boing
Read more at Boing Boing
---

Podzinger is a service that aggregates hundreds of thousands of episodes of podcasts, converts the entire text of the casts to text, and then delivers a searachable index.
---
Amazing inventor Athanasius Kircher designed this cat piano in in the 17th century. Kitties with differently-pitched voices were placed in the pens and then "triggered" to meow with a sharp poke in the ass.
---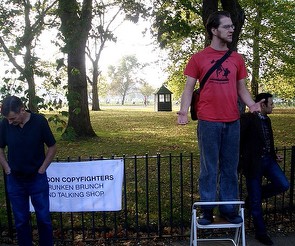 If you're in London on Sunday March 19, there's a public event at my office that I'd like you to come to: we eat brunch, go to Speakers' Corner, and give impromptu speeches about copyright in between the Marxists, god-botherers and loonies.