Tiny video-game cabinet for iPod Nano running Linux/games
Read more at Boing Boing
Read more at Boing Boing
Read more at Boing Boing
---
My fellow NPR News contributor Stacy Bond, who *really* knows the craft of producing great radio (and podcast!) tells BoingBoing,
Hi folks -- AudioLuxe has a couple of spots still open for this weekend's Podcast workshop held at the studios of KQED in San Francisco.
---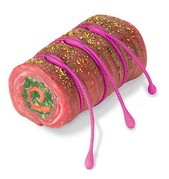 The thefoodloop is a replacement for kitchen string, a heat-resistant, nonscratch, microwave safe plasticky wire that you can wrap around food before cooking it.
---
A media release today from the FBI breathlessly proclaims, "PARENTS REMINDED TO KEEP THEIR KIDS SAFE ON INCREASINGLY POPULAR SOCIAL NETWORKING SITES." Thanks for the add, Osama bin Laden!