Kindle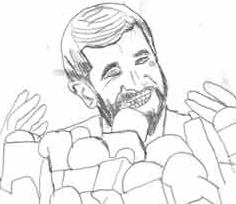 From Greg Gutfeld's illustration and sick-wit blog,
The Daily Gut
:
"HOW TO GET MAHMOUD'S MANE. Curling Iron: For a longer hold I will diligently apply the hairspray BEFORE curling hair. That and the blood of martyrs will maintain a strong hold throughout the day."
Link. Gutfeld is also responsible for The Adventures of Keira Knightley's Jaw, the Big God Blog, and Al Zarqawi's Mom's Blog. (Thanks, Andrew Breitbart)
Boing Boing editor/partner and tech culture journalist Xeni Jardin hosts and produces Boing Boing's in-flight TV channel on Virgin America airlines (#10 on the dial), and writes about living with breast cancer. Diagnosed in 2011. @xeni on Twitter. email: xeni@boingboing.net.
More at Boing Boing