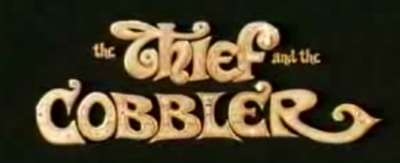 BB pal "the Moth" says,
My friend Garrett Gilchrist recently completed a painstaking recreation of the original cut of Richard Williams' animated masterpiece, "The Thief And The Cobbler." Williams was the three-time Academy-Award-winning animation director for "Who Framed Roger Rabbit, and "Thief" was his pet project -- over 20 years in the making! It was pulled from his control by the completion bond company in the early 90s. They subsequently released a bastard version, replete with added shmaltzy songs & musical numbers. So Gilchrist took it upon himself to put together a version based on Williams' storyreel -- and it's fantastic!
Link
to "The Thief and The Cobbler," available as a series of 17 video installments via YouTube. From the description:
This is not intended for profit, just a fan-made research project and tribute to this classic film. The film was worked on for 26 years, with a team of master animators like Ken Harris and Art Babbit. This film inspired Disney's Aladdin. Ruined versions of it were released as Arabian Knight and The Princess and the Cobbler. For more info, visit originaltrilogy.com (forum 11), orangecow.org, ffrevolution.com, and thiefandthecobbler.com.
Reader comment: Deric says,
The thief and the Cobbler link to you tube is a series of several low quality clips; the entire picture at DVD quality seems bittorrentable here: Link
Bruce Heerssen says,
This had me really excited; especially to learn of high quality bittorrent downloads. Unfortunately, the website hosting the tracker (Demonoid.com) only allows registered users to download their torrents and registration is currently closed. Perhaps a kind reader could step up the plate here and offer a tracker on their own site.