Ragnar's "Maltese Chimp" as a sculpture set
Read more at Boing Boing
Read more at Boing Boing
Read more at Boing Boing
---
Asylum Street Spankers have an excellent parody rendition of "Tie a Yellow Ribbon," called "Stick Magnetic Ribbons on your SUV." (Not safe for work)
Sample lyrics:
"Oh Stick magnetic ribbons on your SUV, keep your apathy and get off scot free.
---
The Atomium is a giant model of an iron molecule built for the 1958 World's Fair in Belgium. It re-opened this year as the Kid Sphere Hotel and it looks amazing.
---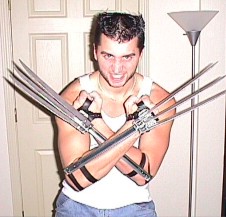 This is a hell of a costume -- a set of retractable galvanized metal Wolverine claws. Lethally cool. The next step was to mount the claws to a ball-bearing track that could be hooked to the back of Nate's forearm.