Kindle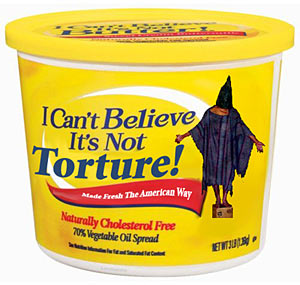 And it's amazing how the stuff spreads. Link to full-size image whipped up by BoingBoing reader Mark Malamud.
Reader comment: Steve says,
Wow, Mark Malamud's 'I can't believe it's not torture' is awesome. I'm just waiting for a cheap Asian knock-off to turn up, like this gem: Link.
"Anonymous" whispers in a 128-bit encrypted voice,
To completely derail the "I can't believe it's not" post, here's a funny list from McSweeney's last week. Link.
Boing Boing editor/partner and tech culture journalist Xeni Jardin hosts and produces Boing Boing's in-flight TV channel on Virgin America airlines (#10 on the dial), and writes about living with breast cancer. Diagnosed in 2011. @xeni on Twitter. email: xeni@boingboing.net.
More at Boing Boing