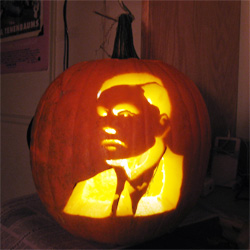 Immortalized in luminous squash:
Alan Turing
, one of our most esteemed nerd ancestors (and, incidentally,
a gay man
who lived in a time even more hostile to that identity than now). He died after biting into a poison apple; the chunks taken out of this pumpkin form his likeness, in light.
Link
. (
Thanks, PC
)
Reader comment: Alberto Gaitan says,
In Janna Levin's (fiction) book, "A Madman Dreams of Turing Machines," (Link) about Kurt Gödel and Alan Turing, I learned that both those big domes had an obsession with Snow White which provided for what Levin has called "bleakly complimentary" suicides. Gödel died of starvation because he thought his food was poisoned.
Ted Kinsman says,
this site has a few years worth of pumpkins carved by physics students - from Newton to Einstein with a few Star trek ones for good measure.