Kindle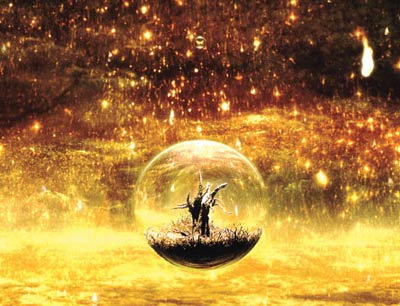 Steve Silberman has an article in the November issue of Wired Magazine on the challenges faced by director Darren Aronofsky ("Pi," "Requiem for a Dream") in creating "The Fountain," his latest science fiction feature which opens in the US on November 22. Steve tells BoingBoing,
One of Aronofsky's primary ambitions was to create outer-space environments without using CGI, and he succeeded brilliantly with the help of a microphotographer in England named Peter Parks who lives in a 400-year-old cowshed and created luminous, Blake-like visions of exploding nebulae for "The Fountain" using curry powder, baby oil, shrimp larvae, and other wacky substances, magnifying them with a device called the microzoom optical bench that employs both Victorian prisms and state-of-the-art digital cameras. (The Parks stuff is near the end of my article).
Link
Boing Boing editor/partner and tech culture journalist Xeni Jardin hosts and produces Boing Boing's in-flight TV channel on Virgin America airlines (#10 on the dial), and writes about living with breast cancer. Diagnosed in 2011. @xeni on Twitter. email: xeni@boingboing.net.
More at Boing Boing