Kindle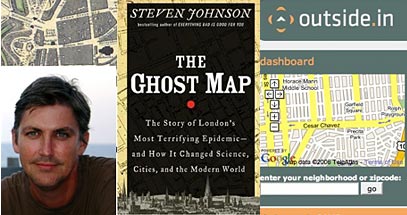 Episode #6 of the Boing Boing Boing podcast is ready for downloading. Our guest for this edition is author Steven Johnson, whose new book "The Ghost Map" my blog-mate Pesco describes as:
An account of an 1854 cholera outbreak on London's Broad Street [and] a magnificent combination of science thriller, cultural history, and celebration of cartography as a powerful tool to help us understand the dynamics of urban life.
Cory, Pesco and I talk with our guest about a slew of recent BoingBoing topics (
Boy Scout MPAA badges
,
Borat vs. Mahir
, Paul Allen's
Brain Atlas
, and
Kevin Poulsen
's
MySpace hack
), and about another big new release from Steven:
Outside.in
, a tool for participating in the online conversations taking place about your community
within
your community.
LISTEN:
Podcast Feed, Subscribe via iTunes, Direct MP3 Link (64K), other MP3 file download options from archive.org: Link, or listen at Odeo: Link.
Browse previous BB posts about Steven Johnson: Link.
* Steven Johnson's new book The Ghost Map
* Steven Johnson launches outside.in
* Steven Johnson's fave books about plagues
Boing Boing editor/partner and tech culture journalist Xeni Jardin hosts and produces Boing Boing's in-flight TV channel on Virgin America airlines (#10 on the dial), and writes about living with breast cancer. Diagnosed in 2011. @xeni on Twitter. email: xeni@boingboing.net.
More at Boing Boing