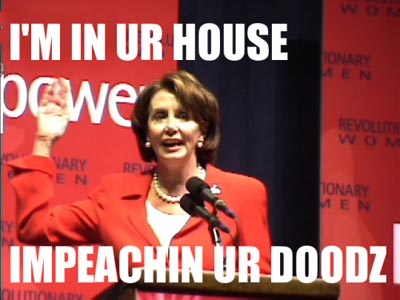 Link (thx Adam Selvidge).
This image is a fresh variant of the old and much-loved "I'M IN UR [noun] [verb]ING UR [noun]" internet meme explained here: Link. My favorite is the cat-in-fridge one: Link. Or maybe the parrot one: Link. I'm an easy target: nearly every time i see a new one of these, it makes me laugh uncontrollably.
Reader comment: Click to enlarge images. John Daniel says,
Here's my contribution: Link.


And though it may be too soon to call decisively... Link. Cheers, and thanks for all the fine reportage!

Ross Evertson says,
I made this one a few days ago when I first heard of the Army/etc Times calling for Rumsfeld's resignation: Link.

Not so fast, hopeful lefties, cautions BoingBoing reader Scott:
Link.