Sterling skull cufflinks
Read more at Boing Boing
Read more at Boing Boing
Read more at Boing Boing
---
Roost has designed a line of stately and elegant animal trophy heads hand-carved from blocks of laminated basswood. The range includes a Cataline Goat, Bighorn Sheep, Blesbock, Reedbuck, and others.
---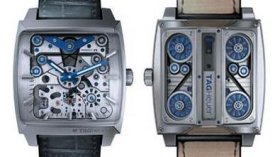 Tag Heuer have released a concept belt-drive watch called the V4 -- you have to see the video to believe it.
---
Japanese researchers have built a miniature pump that's driven by living cells cultured from a rat's heart muscles. Instead of batteries, the pump is powered by a nutrient bath.