Kindle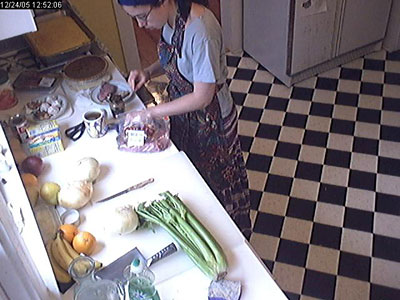 BoingBoing reader Scott says,
For the second year in a row, my friend Erica and her mother and her father have conducted Turduckencam for the holidays. In case anyone doesn't know by now, a turducken is a chicken stuffed in a duck stuffed in a turkey. All three layers of meat are separated by layers of different filling. Mmmmm! No clue if they then plan to stuff it into a goose, then an emu, and then an ostrich...
Link
to the family Turduckencam. It's live right now! This is even more exciting than
Live Nude Naomi Campbell 3D bodyscanning
.
As for the food, I've always been wary of anything on a plate that begins with the letters T-U-R-D, but hey, whatever floats your holiday boat. Also, a question: is the vegan version of this called a tofucken? Just asking.
Reader comment: louisiana refugee sez,
Please school these people a bit more about turducken. its a Louisiana thing, ya herd? Links: 1, 2, 3, 4
Regarding tofucken,
Jonathan
says,
TofuRkeys are great, but this recipe has been going around in vegan circles for years: Link. People who've had both tend to say the home version is far greater.
turlygod says,
Here is a link to a ten bird roast recipe that Hugh Fearnley Whittingstall (yes, he's posh) did on River Cottage. "You need a whole free range turkey... and a whole goose (6-7kg). And then a selection of 8-10 smaller birds..." The Beeb are doing well with back-catloguing what people want to see again. So watch the short vid (QT or WM).
Boing Boing editor/partner and tech culture journalist Xeni Jardin hosts and produces Boing Boing's in-flight TV channel on Virgin America airlines (#10 on the dial), and writes about living with breast cancer. Diagnosed in 2011. @xeni on Twitter. email: xeni@boingboing.net.
More at Boing Boing