Kindle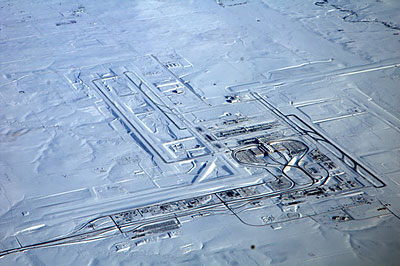 Here's a Santa's-eye view of Denver International Airport, where many people -- including some BoingBoing readers! -- have been snowed in over the past week. The airport has reopened, but flights are still snarled. Hang in there, guys, and hope you get to where you're going soon.
Ashley Niblock took this incredible photo. (Thanks, Jacob Appelbaum!)
Update: wow, here's a side-by-side comparison of the same site with and without snow: Link (from mo.murrey).
Reader comment: Denver area resident Chris Lynn says,
Here are some photos of the Blizzard that hit the Denver area this week. I particularly like the one of my car buried in the snow.
Boing Boing editor/partner and tech culture journalist Xeni Jardin hosts and produces Boing Boing's in-flight TV channel on Virgin America airlines (#10 on the dial), and writes about living with breast cancer. Diagnosed in 2011. @xeni on Twitter. email: xeni@boingboing.net.
More at Boing Boing