Kindle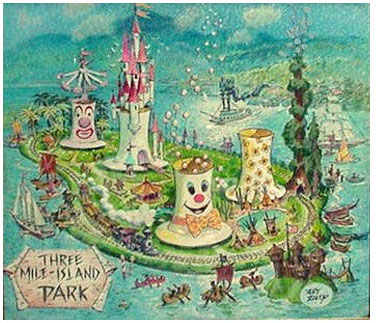 BB reader Justin says,
After the 1979 meltdown at Three Mile Island in Pennsylvania, Disney theme park designer Art Riley jokingly proposed repurposing the site as an amusement park - seen here in this concept art found recently on Ebay.
Link
to Justin's blog post, which also explores a German fun park on the site of an abandoned nuclear power plant.
Reader comment: Mike Outmesguine says,
I happened to catch this news that Unit 1 from Three Mile island (TMI-1) was shut down earlier this month for a few days "due to a grid disturbance" which probably means problems with the delivery of energy to the electrical grid. It's operating at full power now providing 850 Megawatts. (Link). Unit 2 is the reactor that had the meltdown in 1979 and as of 1993 is permanently shutdown and defueled. (Link)
Boing Boing editor/partner and tech culture journalist Xeni Jardin hosts and produces Boing Boing's in-flight TV channel on Virgin America airlines (#10 on the dial), and writes about living with breast cancer. Diagnosed in 2011. @xeni on Twitter. email: xeni@boingboing.net.
More at Boing Boing