Kindle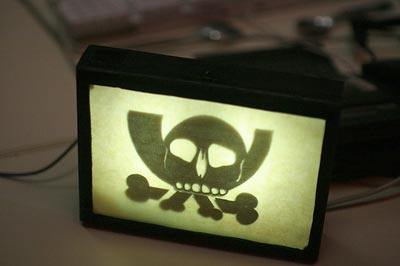 Jacob Appelbaum updates us on what's happening at the annual Chaos Communication Congress in Berlin this week:
Ralf-Philipp Weinmann and I (with special guest hacker David Hulton) will be giving our talk "Unlocking FileVault - An analysis of Apple's encrypted disk storage system" ( Link )

Stream the video from Saal 1 at 11:30AM CET on December 29th (today!) in mp4, wmv, ogg video and ogg audio format.

Check out the CCC wiki for general streaming information at the 23c3.

If you're interested in FileVault ( Link ) this talk will present information never previously discussed.

A code release with slides will be available here after the talk is finished: Link.

I also wanted to send some other links of talks that are coming up at the congress... These are going to be amazing!

* Amit Singh - Software Protection and the TPM ( Link )
* Thierry Zoller & Kevin Finistere - Bluetooth Hacking Revisited ( Link )
* George Danezis - An Introduction to Traffic Analysis ( Link )
* Lawrence Lessig - On Free, and the Differences between Culture and Code ( Link )
* Luis Miras - Automated Exploit Detection in Binaries ( Link )
* Tina Lorenz - Pornography and Technology ( Link )
* Johannes Grenzfurthner - "We are great together, the liberal society and its enemies!" ( Link )
* Mitch Altman - TV-B-Gone ( Link )
* Fox Magrathea & Autumn Tyr-Salvia - Culture Jamming & Discordianism ( Link )
Image: Jacob Appelbaum.
Previously on BB:
• To do in Berlin: 23rd Chaos Communication Congress
• Hacker-con videos: "150 hours of hardcode nerd education."
• Chaos Computer Club hacker con in Berlin (2005)
Boing Boing editor/partner and tech culture journalist Xeni Jardin hosts and produces Boing Boing's in-flight TV channel on Virgin America airlines (#10 on the dial), and writes about living with breast cancer. Diagnosed in 2011. @xeni on Twitter. email: xeni@boingboing.net.
More at Boing Boing