Kindle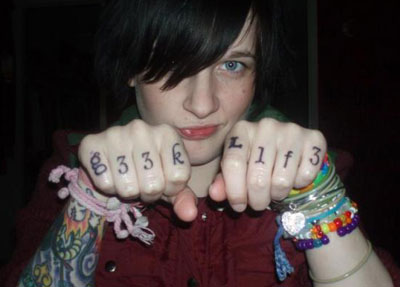 Above, the lovely Miss MC Router (alternate link). Doesn't look like she's on the lineup, but she rocks.
MC Plus+ tells BoingBoing,
Bring in the year 2007 with performances from your favorite Nerdcore artists. It's happening January 9th and 10th in Las Vegas. Check out this link for details. The super nerdy lineup includes but is not limited to MCeeP, Fanatical, High-C, YTCracker, and of course your boy, MC Plus+ (along with Plus+'s most sworn nemesis, Monzy).
And here are a bunch of videos featuring those artists and others:
Link.
Previously on BB:
• Nerdcore for Life documentary - trailer
• Response to SNL video "Christmas Box" = "Boobs in a Box"
• Windows Vista: Suicide notes, nerdcore rap MP3
• New MC Plus+ album of nerdcore rapping
• Nerdcore rap: Attack of the Clonefucker
• Nerdcore artists to release nerd-rap compilation disc
• Fuck the MPAA - nerdcore gangsta rap song
• MC Frontalot: Nerdcore rapper
Reader comment: Doctor Popular says,
Nerdcore artist Beefy has recently released his new album "Tube Technology" -- Link. Although Beefy won't be performing at any of the Vegas shows, the album features artists such as Drown Radio and MC Router (pictured with her "g33k L1f3" tattoo). Beefy will also be headlining a nerdcore show in Portland the week following CES with TG, Drown Radio and more nerdy rappers.

Also, there will be a sneak preview of the new Nerdcore For Life documentary at the Consumer Electronics Show as well as performances by several other nerdcore luminaries on the DIVX stage.
Boing Boing editor/partner and tech culture journalist Xeni Jardin hosts and produces Boing Boing's in-flight TV channel on Virgin America airlines (#10 on the dial), and writes about living with breast cancer. Diagnosed in 2011. @xeni on Twitter. email: xeni@boingboing.net.
More at Boing Boing