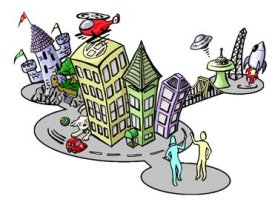 Areae is the just-launched multiplayer world startup from Raph Koster, the famed creator of Ultima Online and Star Wars Galaxy, and author of the classic "
A Theory of Fun
" (the "
Understanding Comics
" of gaming).
There's not much public about the game yet, though one of the investors has published this comment: "Areae sits at the intersection between Web 2.0 and MMOGs. If you think about it, the Web 2.0 and the Massively Multiplayer Online Gaming communities have largely been pretty siloed - gamer developers go to game industry conferences and Web 2.0 folks go to Web 2.0 conferences, and there has not been enough intermingling between the two communities."
I actually know all about it, because I'm lucky enough to be on Areae's advisory board. I can't say any more than what's above, but I can note that Raph has hit on a really smart idea that combines fun, community, and user-creativity to make an entirely new kind of online world experience. Link
See also:
Koster's keynote from Game Developers Conference
Koster's amazing "What are the lessons of MMORPGs today?"
Theory of Fun PDF
Destiny of Games: what will become of fun?
Theory of Fun: Understanding Comics for games
Civil liberties in gamespace
Star Wars Galaxies economy laid bare
Lifecycle of a gamer