Early 70s Levi stop-motion commercial
Read more at Boing Boing
Read more at Boing Boing
Read more at Boing Boing
---
The anonymous Seattle parents of a severely disabled girl (she has the mental capacity of a three-yearmonth-old) have revealed that they surgically modified their daughter, giving her hormone treatments and removing some of her internal organs to keep her small and childlike and thus easier to move around and "involve in family activities." Along with hormone doses to limit her growth, Ashley's parents also opted for surgery to block breast growth and had her uterus and appendix removed.
---
Years ago, I bought a multi-CD set of every MAD magazine. It was a dream come true. Unfortunately, it was Windows only, so I could only read it on my desktop Dell machine.
---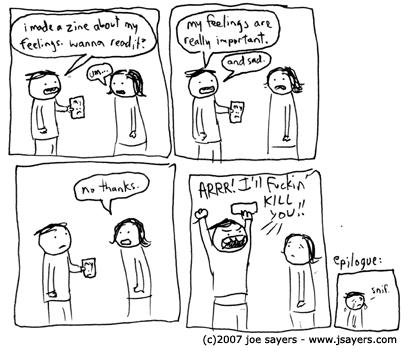 Joe Sayers, creator of the wonderful, bitter funnybook "I'm Gonna Rip Your Face Off!" is making and selling reasonably-priced limited edition prints of his strips.