Kindle
Apple
CEO Steve Jobs' keynote begins in a few moments, and rumors abound: the
Wall Street Journal reported
earlier today,
[P]eople familiar with the matter say Apple is working on a device that combines the iPod with a cellphone, which is expected to be announced as early as today. Cingular Wireless, owned by AT&T Inc., will provide cellphone service to go with the phone, these people say. Such a product would give Apple access to the huge wireless business, with nearly a billion handsets shipped every year. That dwarfs the nearly 70 million iPods Apple has sold over the past five years.

Apple spokesman Steve Dowling declined to comment on what he called "rumor and speculation" when asked about a Cingular-Apple deal. Apple could also further outline its plans to enter the interactive television business with a product code-named iTV.
The keynote is beginning now, liveblog coverage in a number of places including
Macrumors
,
Engadget
and
Gizmodo
.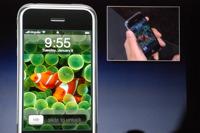 Update: Apple TV we knew about in September, but details announced today (video content, including widescreen to the television)... this is new.... here it comes... the long-awaited phone, also a widescreen iPod, with Cingular logo.
Width: 11.6mm. Runs OSX. Will be iPod + mobile phone + internet communicator. No bottom keyboard, but a screen that can shift. One button on front, 3.5" screen, 160 pixels per inch display. Jobs: "Multitasking, networking, power management, graphics, security, video, graphics, animation." Ambient light sensor. Accelerometer allows it to sense whether in portrait or landscape mode. View video, listen to music with iTunes... contact management, scroll through contacts... visual voicemail... Quad-band, WiFi, bluetooth, GSM / EDGE data.
Jobs: "What's the killer app? Making calls!," promises ease of use for initiating and receiving calls.... multi-session SMS messaging... widgets... push IMAP, like Blackberry... Safari web browser...
Sucks to be a Treo or Zune today.
Update 2: Here's John Markoff's coverage in the New York Times: Link.
Boing Boing editor/partner and tech culture journalist Xeni Jardin hosts and produces Boing Boing's in-flight TV channel on Virgin America airlines (#10 on the dial), and writes about living with breast cancer. Diagnosed in 2011. @xeni on Twitter. email: xeni@boingboing.net.
More at Boing Boing