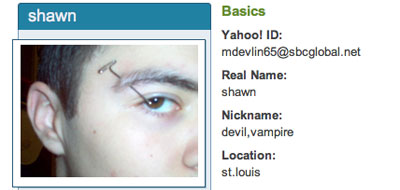 (Updates after the jump).
Two boys reported to have been kidnapped four years apart were found by police in the same St. Louis, MO apartment last Friday, and returned to their families. Shawn Hornbeck, now 15, "vanished while riding his bike on October 6th, 2002" at age 11 according to a search and rescue website maintained by his family. Ben Ownby, 13, went missing after he stepped off his school bus last Monday afternoon. The man charged with kidnapping both boys is 41-year-old Michael Devlin.
A number of internet profiles on gaming sites and social networking services point back to Devlin and Hornbeck. Some bloggers have theorized that Devlin (who does not have a prior criminal record) may have been a sexual predator who preyed on boys of a specific age range, and that he posted the profiles with Hornbeck's likeness to lure new young victims when Hornbeck grew older. But Hornbeck could have created profiles for himself. And it's also entirely possible that some or any of these are fake, or set up by others.
We don't yet know much about what happened beyond the basics: the two children each went missing, Hornbeck apparently lived with Devlin for more than four years, and both kids were discovered in Devlin's apartment.
One user profile at gamertagpics.com, a popular networking site for XBox Live players, includes a photo of Shawn Hornbeck standing outside of Devlin's apartment, where police found him last Friday. It appears that Hornbeck or Devlin maintained a profile with similar screenname at other Xbox gamer networks, too. After the jump, some of the profiles believed to be related, with links and screengrabs.