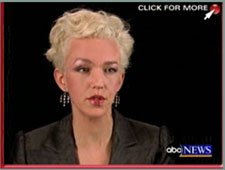 On today's edition of the NPR News program "
Day to Day
," I spoke with
Alex Chadwick
about Steve Jobs'
challenge to record labels -- drop DRM
.
Here's an MP3 of the radio segment: Link. Here's streaming Real or Windows on NPR.org: Link.
NPR's "Xeni Tech" archives are at NPR.org/xeni, and you can subscribe to these reports by podcast here: Link.
And noteworthy for BoingBoing readers... on today's "Day to Day," my NPR colleague and fellow Sabbath devotee Luke Burbank reported on the news that Ozzfest will go free-admission in 2007. Link to that archived audio, and here was a related BB post from yesterday. (hmm... bat-eating: vegan?)
Also today, ABC News ran a segment about the Steve Jobs DRM announcement: Link to this video clip (screengrab at left), and here's their entire webcast for 2/7/2007.
Previously on BoingBoing: