Mobile cupcake transmission module
Read more at Boing Boing
Read more at Boing Boing
Read more at Boing Boing
---
I've been a low-carber for so many years that potato chips are little more than a dim, starchy memory for me, but my potato-stalgia has been revived by this Japanese microwave potato-chip-maker.
---
An 11 man, 1 woman jury in Orange County found Irvine police officer David Alex Park not guilty of three felony charges after he pulled over a female motorist (a dancer from Captain Cream Cabaret, identified as "Lucy" in court) and ejaculated on her sweater.
---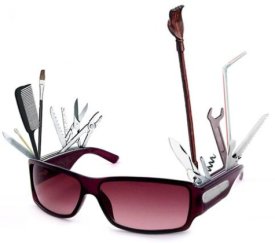 These multi-function Swiss Army-shades from Not-So-Bright Sunwear must be a hoax -- I refuse to believe that anyone is manufacturing a pair of suglasses with an integrated drinking straw and back-scratcher.