Kindle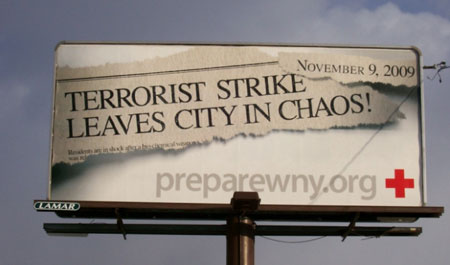 From what I can tell, the image above is legit, and documents one of a number of billboard ads for the Greater Buffalo, NY chapter of the American Red Cross. What's creepy about the ad campaign is that they've pegged the date of a future "terrorist attack" at November 9th 2009, and predicted that the incident will be a bio-chemical attack. Spotted at Alex Jones' Infowars. (Thanks, Rich Kulawiec)
Reader comment: Michael Calanan says,
Howdy, I live in Buffalo and can confirm that these fearmongering 'boards do exist, I see several versions whenever I travel the area's highways. For as much as I photograph the streets of this city I haven't actually taken any of the billboards else I'd have more examples to pass on. Their fake headlines range from snowstorms to terrorist attacks and in fact last year the following 'board was shown in the area and not too long after it debuted Buffalo received its "October surprise" [ Link ] storm that indeed devastated the city. Here's the billboard related to that storm: [ Link ] (Image from buffaloredcross.org). And my images from the storm: [Link].

I did a search through the local Flickr group [ Link ] and couldn't find anyone who has taken photos of more billboards. Maybe, like me, they think the program is just too ridiculous to bother recording?
Update: Michael shares...
These billboards are like rabbits...I saw two on the way home tonight within a couple blocks of each other. Link 1, Link 2.
Boing Boing editor/partner and tech culture journalist Xeni Jardin hosts and produces Boing Boing's in-flight TV channel on Virgin America airlines (#10 on the dial), and writes about living with breast cancer. Diagnosed in 2011. @xeni on Twitter. email: xeni@boingboing.net.
More at Boing Boing