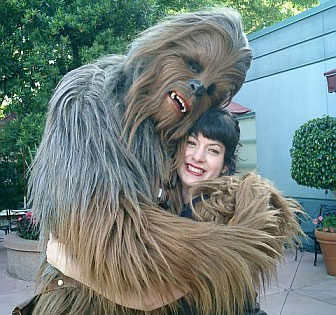 Episode #10 of the Boing Boing Boing podcast is out! Our guest for this edition is Bonnie Burton of Lucasfilm and grrl.com fame, author of the just-released book You Can Draw Star Wars (Amazon link) . In today's podcast, we probe the universe (and Bonnie's brain), asking...
Do Woookies have to wear hairnets in the Lucasfilm cafeteria?
What is a "bathrobe Jedi"?
Is laser graffitti terrorism?
Will there ever be another Star Wars film?
If you discover LED art in a public place, should you blow it up?
What is R2 D2 trying to tell me?

LISTEN:
Podcast Feed, Subscribe via iTunes, Archive.org, Listen at Odeo, Direct MP3 url. Also, here's the iTunes link, and feel free to leave comments there if you dig the podcast!

BONNIE'S BOOKS:
Inside You Can Draw: Star Wars. Link
You Can Draw: Star Wars on Myspace. Link.
How to Draw Star Wars Video Tutorials: Link.
Learn to Draw Star Wars on starwars.com: Link

LINKS MENTIONED IN THE PODCAST:
Bossk Bean Art Portrait: Link.
Star Wars Rocks (interviews with bands and celebs who love Star Wars): Link.
501st Legion: Link.
Bonnie Blog on Grrl.com: Link.
Bonnie Star Wars Blog: Droids Just Wanna Have Fun. Link.
Bonnie's Guest Blog on BoingBoing.net, back in 2002: Link

MUSIC:
The tune you hear in this podcast is by Q-Burns Abstract Message, aka producer and indie digital music entrepreneur Michael Donaldson. The song is his remix of "Angel Soup" by Cold Hands, recently released on vinyl and digital via Blunted Funk Records. Listen to the whole thing here, with info on where you can purchase his DRM-free music

TECH NOTES:
We recorded this podcast as a Skype conference call, and captured it with AudioHijack. The audio was later edited in Apple's Garage Band, after some help from Levelator.

Next post