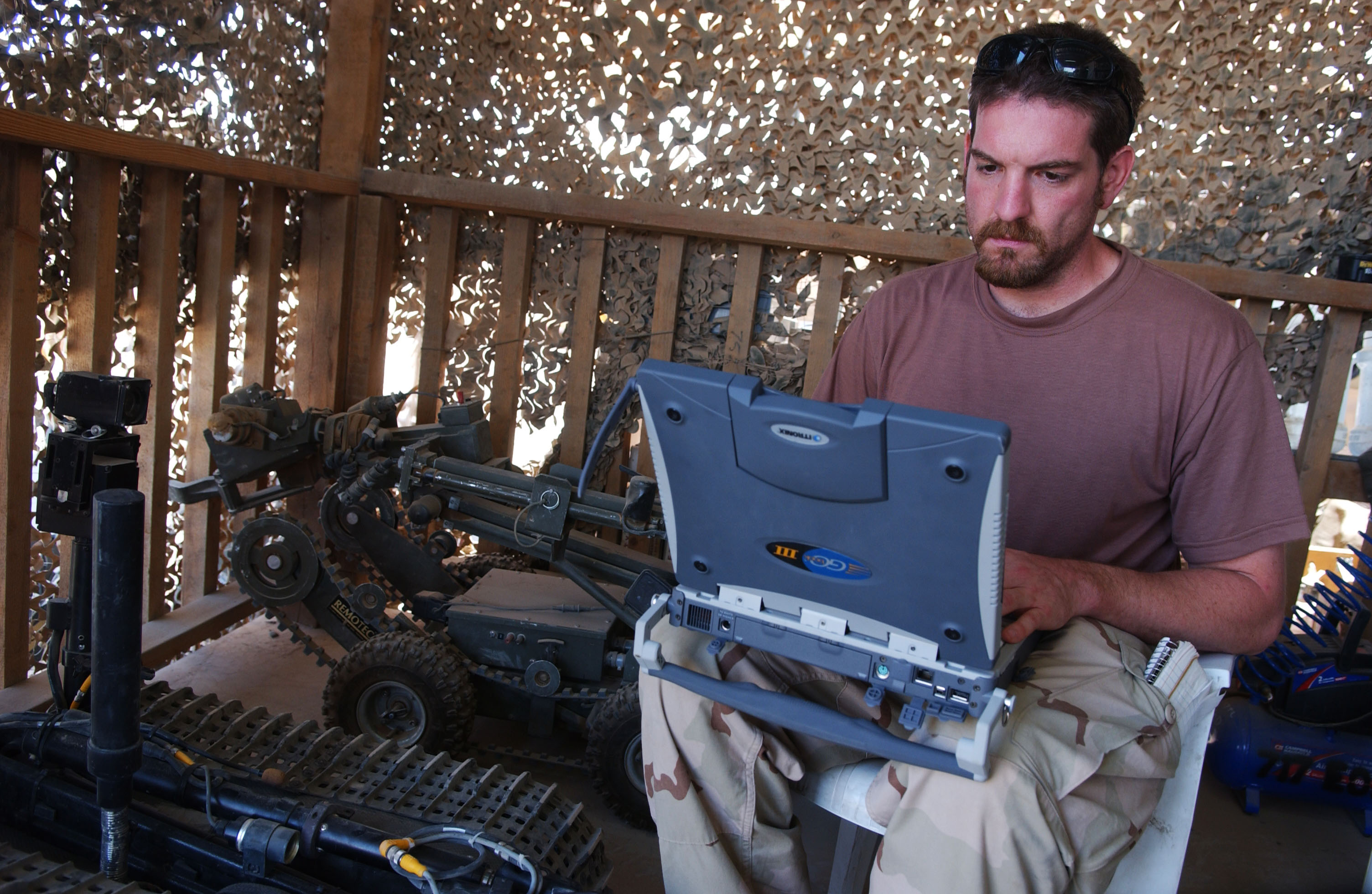 Episode #11 of the Boing Boing Boing podcast is out! This week, we speak to defense technology reporter Noah Shachtman, editor of the recently-launched Wired News blog Danger Room (shown above, logging on in Iraq -- photo by Johan Spanner).
- - - - - - - - - -
LISTEN:
Podcast Feed, Subscribe via iTunes, Archive.org, Listen at Odeo, Direct MP3 url. Also, here's the iTunes link, and feel free to leave comments there if you dig the podcast!
- - - - - - - - - -
In this podcast episode, Cory and Xeni talk with Noah about his feature in this month's issue of Wired Magazine -- "Be More Than You Can Be," a peek inside the Pentagon's human enhancement project for heat-proof, cold-proof, exhaustion-proof, zombification-enabled soldiers.
Here's a link to that story, here are related posts on "Danger Room," here's an interview with the head of DARPA, and at the bottom of this BoingBoing post is a snapshot of Noah freezing in "the cold tub" (hint: the only reason he doesn't freeze to death there is because researchers slap special heat gizmos on his hands, which radiate warmth throughout his body).
In the podcast, we also talk about toilet bombs and chilled testicles. For that reason, I encourage you to listen.
MUSIC:
The tune you hear in this podcast is by Q-Burns Abstract Message, aka producer and indie digital music entrepreneur Michael Donaldson. The song is his remix of "Angel Soup" by Cold Hands, recently released on vinyl and digital via Blunted Funk Records. Listen to the whole thing here, with info on where you can purchase his DRM-free music
TECH NOTES:
We recorded this podcast as a Skype conference call, and captured it with AudioHijack. The audio was later edited in Apple's Garage Band, after some help from Levelator.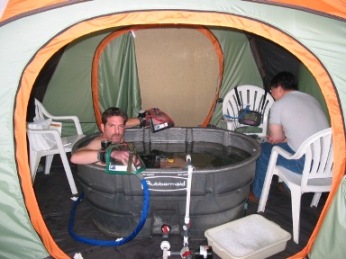 Reader comments: Dan in Vienna, Austria writes,
I was just listening to the BoingBoing podcast. As you were talking about the video where some scambaiters were reenacting a Monty Python sketch and about the motives of scambaiting, I was reminded of this forum: Link.

There's is some really serious stuff and it is damn funny. For example, read a few posts in this thread: Link.

When someone tried to scam the author, he managed to trick the scammer into paying the DHL freight charges from the US to Nigeria--for a package containing a broken washer instead of laptops and phones. This goes on for a total of nine shipments of broken appliances-to the same scammer! How dumb can scammers be? The guy running the site has even been on a US TV network--and if you happen to do a report on scammers it might be fun to have him talk about his tactics.