Geeky comic strip uses Cory as the punchline
Read more at Boing Boing
Read more at Boing Boing
Read more at Boing Boing
---

Next Tuesday, Mar 27, the EFF's throwing a fundraiser at the O'Reilly Emerging Tech conference in San Diego. The event is the presentation of the Pioneer Awards, an award that "recognizes individuals who have made significant and influential contributions to the development of computer-mediated communications or to the empowerment of individuals in using computers and the Internet." I'm a winner this year, as are security expert Bruce Schneier and Yochai "Wealth of Networks" Benkler.
---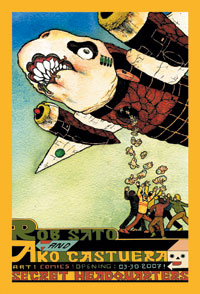 Artist Rob Sato and Ako Castuera have a new show going up at The Secret Headquarters (LA's best comic shop) next Friday: Rob and Ako live up the street from Secret Headquarters in what some would call a shack.
---
I mentioned the 60s German band Les 5 gentlemen earlier today, then came across this awesome video of them performing Cara-Lin.