Mario meets Magritte tee
Read more at Boing Boing
Read more at Boing Boing
Read more at Boing Boing
---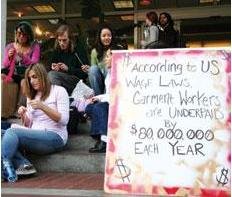 Students at the University of Southern California (where I presently teach on a Fulbright chair) are occupying the school president's offices, protesting the use of sweatshop labor in the production of school merchandise.
---
Wunderbaum says: I posted a (crappy cellphone) picture on my Livejournal of a quite disturbing Taiwanese product that I happened to find the other day: "Family Condom," with a very suggestive illustration that is wrong on several levels: A very loving family, almost suggesting how the entire family can enjoy Family condom together... And besides, aren't condoms supposed to prevent children from manifesting anyway? Link
---
Here are some photos of a pair of elk who have locked horns. Link
Previously on Boing Boing: • Fighting elk lock horns and die
Reader comment:
Scrubb says: Locked horns -- though bizarre -- aren't as unusual as you might think.