Kindle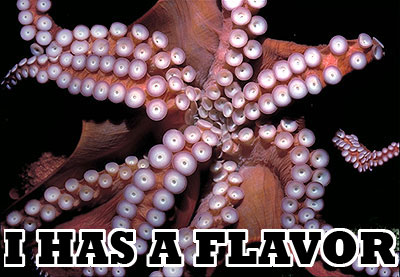 Following up on a previous BB post about freshly-killed, still-wriggling octopus tentacles -- a popular dish in South Korea -- many of you wrote in with personal accounts, and video. Here are more.
ray says,
Just read the squirming octopus post on BoingBoing! I was in Korea some 2 years ago and posted a similar breakdown on my own site - it includes videos of flopping fish and waving sea urchins. Live. And of course, we're eating them. Doesn't get any fresher than that! And now I'm getting hungry too... Link.
Brittanie H. says,
I have been living on Geoje Island, Korea, for the past two years. I have never eaten the wiggling octopus tentacles because they gross me out but I have had other undead seafood and I love steamed octopus.

I thought you might like to know the reason why Koreans eat their food this way. Especially in coastal areas, there is an emphasis on the "freshness" of seafood. Seafood lovers in the West know that fish always tastes better if it hasn't been frozen – Koreans take this one step further. They think most seafood is best when it's freshly killed, like, literally seconds before you eat it. Near the coast, almost all seafood restaurants have tanks outside where you pick the fish you want to eat. It is then killed at a bar inside and served up sashimi-style. Markets here serve skinned eel that even after de-gloving continue to wriggle around.

There is a scene in the Korean movie "Seom" (A.K.A. The Isle, a very good movie) in which a fisherman pulls a catch out of the water, cuts a chunk off the flank, eats the meat and then drops the butchered fish back into the water. The camera follows the fish as it swims away, streaming blood. Animal right activists had a heyday with that one, since the scene looks very, very real, but the director swears the fish was a fake. You can see part of the fish in this trailer at about 54 seconds in. Video Link.
Evan Garcia says,
The posts about octopus reminded me of recent Pulitzer-recipient Jonathan Gold's description of eating live prawns in LA's Koreatown: Link.

It's a great piece of writing, like no other food review I've read.
Len Cullum says,
Here is a 2 minute video of a sushi chef who fillets both sides of a fish, then puts it back in the tank where it swims around seemingly unaffected. The video is not graphic or gory unless you consider being able to almost see through the fish as either of those things. Video Link.
Kyungjoon Lee says,
BTW, there's a Wikipedia article about eating live octopus: Link.
Boing Boing editor/partner and tech culture journalist Xeni Jardin hosts and produces Boing Boing's in-flight TV channel on Virgin America airlines (#10 on the dial), and writes about living with breast cancer. Diagnosed in 2011. @xeni on Twitter. email: xeni@boingboing.net.
More at Boing Boing