Famous dead punks hawk Dr. Martens
Read more at Boing Boing
Read more at Boing Boing
Read more at Boing Boing
---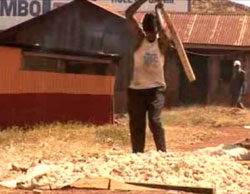 ( posted from Guatemala / Xeni ) PBS "NOW" new media producer Joel Schwartzberg says, On Friday, May 25 at 8:30 pm (check local listings), NOW travels to Kenya to investigate an enterprising idea: franchising not burger and donut shops, but health services and drugs in rural Africa.
---
Attaboy has posted a few pages from the forthcoming issue of my favorite art magazine, Hi-Fructose. It just keeps getting better and better.
---
Chinese Gold Farmers is a documentary film-in-progress about people in Asia who earn their living creating in-game wealth and selling it to wealthy players.