Best LOLpresident so far on that Fark thread
Read more at Boing Boing
Read more at Boing Boing
Read more at Boing Boing
---
New York City's Chocolate Bar boutique, sellers of the CBGB Retro Bar, created a line of candy bars wrapped in labels designed by pioneering NYC graffiti artists.
---
I enjoy listening to podcasts and audiobooks on my iPod, especially in the car. I typically use an earbud headset, but with only one bud, keeping the other ear free for sounds of traffic.
---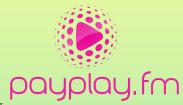 PayPlay has just launched "the world's largest MP3 download store" -- a store selling more than 1.3 million indie music tracks, with a search engine that allows you to search for your fave artists and get similar indie artists in the catalog.