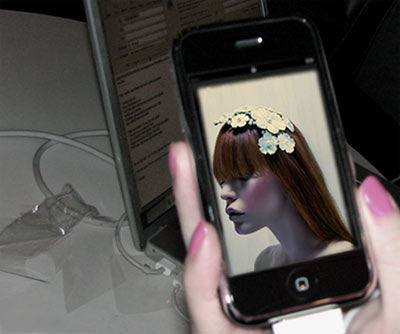 A friend of BoingBoing wrote in yesterday to bemoan the lack of iPhone-rezzed, alt-girl, cheesecake wallpapers.
"The stuff Playboy released online last Friday is totally lame, I mean YAWN lame, and there's not a lot of good stuff in the right size," he said (paraphrasing a bit here).
"I wish there were some hott 320x480 sets out from Stockroom, or, I don't know, the kind of photography you might see on Nerve."
We're in the wish fulfillment business here at BoingBoing.
I forwarded this guy's email to Brooklyn-based fashion/erotica shooter Clayton James Cubitt, who promptly responded by publishing -- just for us -- this set of images he recently shot of adult star Justine Joli.
Link to photoset, titled "Damaged Doll."
Ms. Joli describes herself as a "stripping, acting, blogging, podcasting, ass-kicking, game-playing, anime-watching, hentai-loving, Comic-Con-attending, 40%-lesbian... geek." She's known for hardcore fare, but Cubitt's set is stylized stuff. I'd define it as artfully adult nudity. Still, NSFW, and for adults only. This set was originally shot to appear in a magazine fashion spread, as I understand it, but was banned or something. Anyway, download and [insert crude "touchscreen" or "one-handed txting" joke here].
I've asked classic fetish photog Steve Diet Goedde (whose work can be found in Stockroom's online galleries, and sometimes on BB) to share a 320 x 480 @ 160dpi set with us too.
(image: Sean Bonner, inset: Justine Joli, shot by Clayton Cubitt).
Update: Susannah Breslin's gathering links to more iphone-rezzed smart smut: Link. This will grow forever, surely, but for now it's a fun novelty.
And Fractal says,
SuicideGirls.com has put together 3 wallpaper packs - 100 PG-13 wallpapers, 100 Rated R wallpapers, and 10 illustrated logo designs. Link.
Previous iPhone-themed posts on BB: Link.