Kindle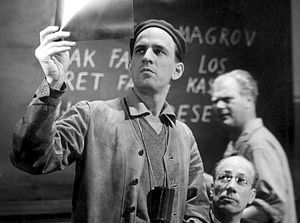 The legendary motion picture director was 89. Snip from NYT obit:
In his more than 40 years in the cinema, Mr. Bergman made about 50 films, often focusing on two themes – the relationship between the sexes, and the relationship between mankind and God. Mr. Bergman found in cinema, he wrote in a 1965 essay, "a language that literally is spoken from soul to soul in expressions that, almost sensuously, escape the restrictive control of the intellect."
Link
. Wikipedia bio:
Link
. IMDB:
Link
.
Image above, Bergman working on the film "Wild Strawberries." Here's a 4:35-minute clip from that film: Video Link. Here's a DVD link.
(Thanks, Eugene Belford)
Boing Boing editor/partner and tech culture journalist Xeni Jardin hosts and produces Boing Boing's in-flight TV channel on Virgin America airlines (#10 on the dial), and writes about living with breast cancer. Diagnosed in 2011. @xeni on Twitter. email: xeni@boingboing.net.
More at Boing Boing