Web Zen: Lunch Zen
Read more at Boing Boing
Read more at Boing Boing
Read more at Boing Boing
---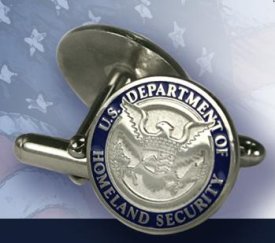 Want to show your support for the creepy newspeak word "homeland"? The Department of Homeland Security Store offers a wide variety of DHS and TSA schwag, including TSA pin-on badges (minimum order five pieces, government email address required), the discounted TSA holiday ornaments (government email also required -- can't have a civilian Xmas tree impersonating an official holiday tree!), a wide selection of meaningless corporate recognition plaques and certificates (FEMA too, but no "Heck of a job, ______!" plaques, alas), and, of course, DHS silver cufflinks, to communicate your general upper-crustiness as you testify about all those people you helped ship off to Syria. Link (Thanks, Porkophilic!)
Update: Adam sez, "I think that you missed the most important item in the DHS store (which of course requires a government email address to purchase...) The DHS Shot glass. Yes, you too could be the proud owner of a DHS shot glass if only you had a government email address. Which raises the question why, do DHS staff need branded shot glasses?"
---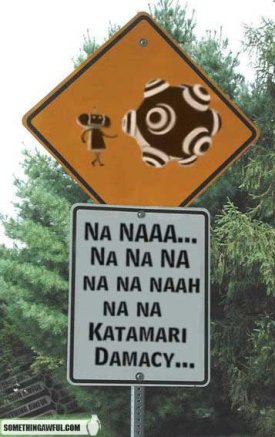 This week on the Something Awful Photoshop Phriday contest -- freaky road signs. My favorite (natch) is this Katamari Damacy-inspired number. Link
---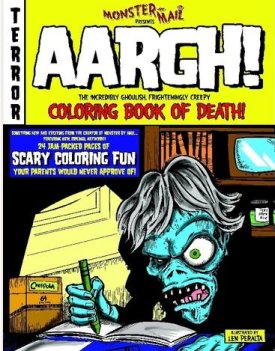 Len Peralta's new coloring book, "Monster By Mail Presents: AARGH! The Incredibly Ghoulish, Frighteningly Creepy Coloring Book Of Death" reminds me of my favorite monster stickers and coloring books from the Seventies -- scary in a Munsters-y kind of way.