Kindle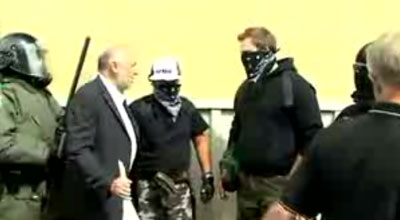 David Topping from Torontoist blog says,
This is weird stuff: protesters are accusing police at the Montobello leaders summit (which includes George Bush, Stephen Harper, and Felipe Calderon) of using other police as riot provocateurs. The video of one such confrontation is really extraordinary to watch.
Link
.
Reader comment: Duncan says,
This link is a photo of the boots they were wearing which also happens to be the same boots the police were wearing.
Swiftysjunk says,
NY Police have also been arresting themselves to incite people. My cousin Jim Dwyer ( NY Times, Pulitzer Prize winner ) has a three part video blog ( includes helicopter rooftop surveillance of terroristic couples sucking face ). It goes well with the Quebec cops.
Boing Boing editor/partner and tech culture journalist Xeni Jardin hosts and produces Boing Boing's in-flight TV channel on Virgin America airlines (#10 on the dial), and writes about living with breast cancer. Diagnosed in 2011. @xeni on Twitter. email: xeni@boingboing.net.
More at Boing Boing