Kindle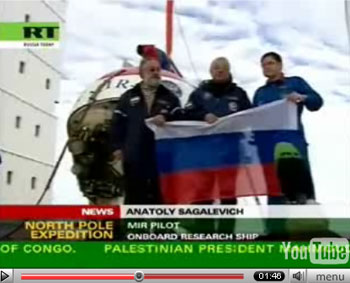 Over at the National Geographic All Terrain blog, Tom Zeller, Jr. (formerly of the New York Times) today posts about vanishing arctic ice, and recent news that "Russia took a submersible to an undersea ridge beneath the North Pole earlier this month and, yes, planted a titanium flag." Link to blog post, and Video Link to the clip about the Russian flag at the ocean floor.
Reader comment: Nick Crossland says,
Did you know it has since been found that some of the footage the Russians claimed to be at the Arctic was really stolen from the movie Titanic ? Link.
Boing Boing editor/partner and tech culture journalist Xeni Jardin hosts and produces Boing Boing's in-flight TV channel on Virgin America airlines (#10 on the dial), and writes about living with breast cancer. Diagnosed in 2011. @xeni on Twitter. email: xeni@boingboing.net.
More at Boing Boing