Kindle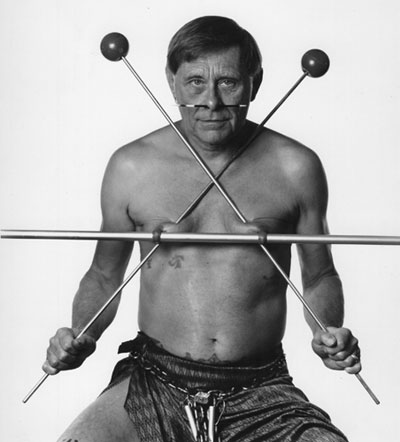 [ Image: Fakir Musafar, "modern primitive." ]
PART 3 OF 3
Louis Rove, the man identified as the adoptive father of Deputy White House Chief of Staff Karl Rove, apparently lived the latter part of his life as an out gay man who was deeply involved in body piercing culture.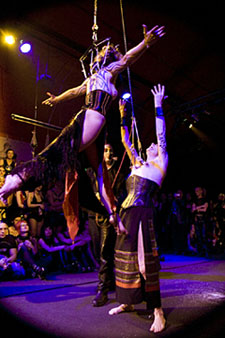 That's what we've learned this week, through a first-person essay posted on BMEZine by Yard[D]og, who identifies himself as a former friend of "Louie" Rove, and through an audio interview posted here on BoingBoing with Jim Ward.
In 1975, Ward founded The Gauntlet, widely considered to be the first professional piercing shop in America. The "grandfather of the modern piercing movement," as Ward is known, personally administered 37 (mostly genital) piercings to Louis Rove.
Another pioneer in those early years of ampallangs, dydoes, and nipple rings -- intimate ornaments we now take for granted in alt circles -- was Fakir Musafar. As you can see from the image above, he is most committed to the art and experience of piercing, beyond mere ornamentation.
Musafar began experimenting with body piercing at age 11, growing up on a Native American reservation in South Dakota in the 1930s. Now, at age 77, he teaches body modification workshops at the Bay Area school he founded: bodyplay.com. Image at left: a live piercing event overseen by Musafar.
Musafar also knew Louis Rove. He photographed Rove's piercings (in great detail) for a 1983 issue of the fanzine Piercing Fans International Quarterly, or PFIQ. Rove wrote an essay about his piercings for that same issue (links to scans at the foot of this post, images are very NSFW).
In this audio interview with BoingBoing, Fakir Musafar tells us about what drew him to his lifelong fascination with body modding; about the formative years of the piercing industry; and about the quiet, curious, friendly, and very heavily pierced man he knew as Louie "Indy" Rove.
---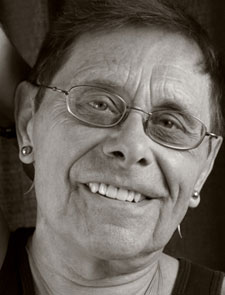 AUDIO interview: FAKIR MUSAFAR
(duration - 23:12)
[Browser-compatibility note -- The audio link in this post appears as embedded Flash, and is brought to you by our sponsor: HP's iPaq 510 Voice Messenger. If your web reader doesn't allow you to access Flash, here's the MP3 LINK. ]
Section index:

* 0:00-5:23 (Growing up in Indian country, childhood experimentation)
* 5:23-9:34 (Early piercing photos, moving to CA, new "modern primitives movement," Muzak founder whose nom de kink was Doug Malloy provided essential funding)
* 09:34-14:00 (Meeting Louie Rove, "T&P parties," early '70s WeHo piercing scene, first piercing shop The Gauntlet)
* 14:00-18:00 (Contents of a 1983 PFIQ issue in which Mr. Rove, and his pierced genitals, were cover story)
* 18:21-23:12 (Piercing goes commercial, but Musafar and others work to preserve the esoteric aspects)
---
"Back in the early days," Musafar explains in our interview, "people who were interested in piercing were a very small, insular community."
Not anymore. Body piercing is big business now, and a more visible part of popular culture.
"Back then, none of us dreamed it would come to this," Musafar says. "Kids these days who come to my [piercing] school haven't a clue how this started, they don't know who Jim Ward is. They should understand and appreciate something about their ancestors, people who lived 20 years ago at least."
---
SCANS of Piercing Fans International Quarterly
Issue #17, 1983
Cover story and 6-page feature on Louie Rove (aka "Indy"). Photos by Fakir Musafar, contents shared here by permission of PFIQ founder Jim Ward.
NSFW warning: contains graphic images of genital piercings. Inappropriate for children, and may be disturbing for adults. Do not click if you are easily offended, or squeamish about body piercing.
* SCAN #1
* SCAN #2
* SCAN #3
* SCAN #4
---
Previously on BoingBoing:
(1) Essay: I'm the proud owner of Karl Rove's father's solid gold cock ring
(2) Karl Rove's Pierced Family Jewels: Jim Ward interview (audio)
(Images in this post provided by Fakir Musafar. Very special thanks to Shannon Larratt, founder of BMEzine.com, who kindly offered to host the PFIQ scans on our behalf, and who introduced me to this story in the first place -- and to Mr. Ward and Mr. Musafar.)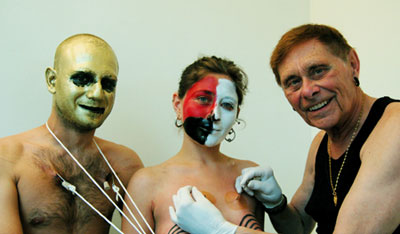 Boing Boing editor/partner and tech culture journalist Xeni Jardin hosts and produces Boing Boing's in-flight TV channel on Virgin America airlines (#10 on the dial), and writes about living with breast cancer. Diagnosed in 2011. @xeni on Twitter. email: xeni@boingboing.net.
More at Boing Boing