Kindle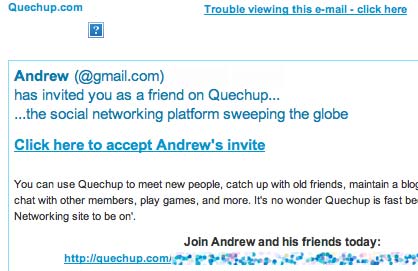 While you were Burning / vacationing / spacing out offline this Labor Day weekend, many folks online were hit with invitations from a social networking service called Quechup that violates your address book, and abuses user trust by spamming all your contacts.
Now that people are coming back from the Labor Day holiday, expect a bunch of invites -- I've received a dozen just this morning. Delete 'em if you know what's good for you. Link to one of many first person accounts, Link to another. And another, and another (punch line: the spam blast created by Quechup caused Google to suspended that victim's Gmail account).
Update: via Howard Rheingold on Twitter, here's the corporate rep info for Quechup:
Quechup attorney, I am told: Loeb & Loeb LLP 345 Park Avenue New York, NY 10154-0037 Tel: (212) 407-4000Tel: (212) 407-4000 USA

Quechup parent corp, I'm told: iDate Corporation 6767 West Tropicana Ave. Suite 207, Las Vegas, NV 89103 Las Vegas, NV 89103
Boing Boing editor/partner and tech culture journalist Xeni Jardin hosts and produces Boing Boing's in-flight TV channel on Virgin America airlines (#10 on the dial), and writes about living with breast cancer. Diagnosed in 2011. @xeni on Twitter. email: xeni@boingboing.net.
More at Boing Boing