Kindle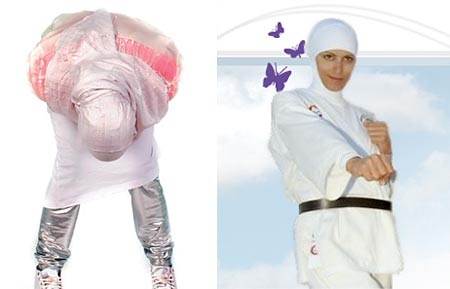 Boing Boing reader Darren says,
Burqinis are the new black! Here's an article from the International Herald Tribune about how Muslim fashion designers are getting more creative: Link.

One of the more interesting designs I read about was the 'burqini'. It's essentially a two-piece, beach-friendly tracksuit which covers the whole body. I gather it's a pragmatic solution to the problem of what observant Muslim women can wear to the beach.

They're apparently sold here (features photos of happy Burqini-clad women frolicking on a beach). And here's a female Muslim lifeguard in Australia, sporting one while watching the waves.
Image above: at left, the cover shot on
MSLM
, a new fashion magazine for Muslim women in the Netherlands (favorite headline
on that cover
: "BAD SCARF DAY: we all have days like this!"). At right, a
ninja
girl in a
burqini
.
Boing Boing editor/partner and tech culture journalist Xeni Jardin hosts and produces Boing Boing's in-flight TV channel on Virgin America airlines (#10 on the dial), and writes about living with breast cancer. Diagnosed in 2011. @xeni on Twitter. email: xeni@boingboing.net.
More at Boing Boing