Kindle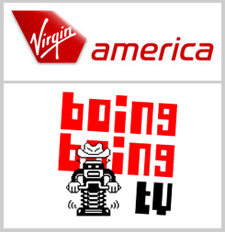 Soon, when you fly on a
Virgin America
plane, you'll be able to watch
Boing Boing tv
episodes on the in-flight entertainment system if you are not too busy chatting up that hottie in row 11a, or ordering a martini by touchscreen.
Link, and related items: Valleywag, Information Week, NewTeeVee. (Thanks, Charles Ogilvie!)
Boing Boing editor/partner and tech culture journalist Xeni Jardin hosts and produces Boing Boing's in-flight TV channel on Virgin America airlines (#10 on the dial), and writes about living with breast cancer. Diagnosed in 2011. @xeni on Twitter. email: xeni@boingboing.net.
More at Boing Boing